The Encyclopedia Dedicated to Kill Bill and Lady Snowblood
Revenge is a Dish Best Served Cold.
Currently 81 articles dedicated to Quentin Tarantino's Kill Bill and Toshiya Fujita's Lady Snowblood


•
•

About Kill Bill
Kill Bill is the story of one retired assassin's revenge against a man who tried to kill her while she was pregnant years prior. After being in a coma for four years, Beatrix Kiddo is hungry for revenge against the man and his team of assassins and will stop at nothing to Kill Bill.
Disclaimer
Legal - This fansite is not affiliated with Quentin Tarantino, A Band Apart, Super Cool ManChu, Production I.G or Miramax Films. All trademarks and copyrights belong to their respective owners, and are used here under the terms of Fair Use as defined in United States Copyright Doctrine. Kill Bill is a registered trademark of Mirmax Films, Inc.

Advertising
- Advertising on Wikia is sold by Wikia Inc., and is not an endorsement of the products by
Quentin Tarantino
,
A Band Apart
, Super Cool ManChu,
Production I.G
or
Miramax Films
, WiKillBill or its volunteers. To report an inappropriate advertisement, please contact Wikia Inc. directly using the
contact form
.
Featured Article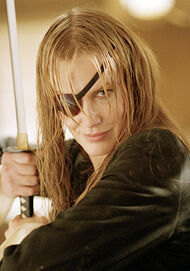 Elle Driver was a member of the Deadly Viper Assassination Squad, known by her code-name California Mountain Snake, and by her missing eye, covered by an eyepatch. Elle had some kind of sexual relations with Bill, unlike Beatrix Kiddo, who was Bill's girlfriend and the mother of his daughter. After a long sword fight, Elle was defeated by Beatrix, who snatched out her other eye. (more...)
A Kill Bill Quote
Community content is available under
CC-BY-SA
unless otherwise noted.