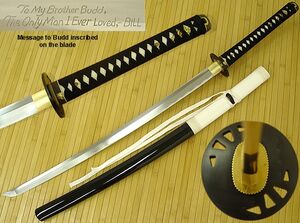 Budd's sword was made by Hattori Hanzō and given to Budd by Bill. The sword was engraved with "To My Brother Budd, The Only Man I Ever Loved, - Bill".
When Bill arrives at Budd's trailer to warn him of Bea's certain vengeance, Budd lied to his brother, telling him that he had pawned the sword years ago. Beatrix found the sword in his trailer's dormitory, implying that Budd, in fact, cared for his brother's gift.
Beatrix used the sword in her fight with Elle Driver, while Elle was using Beatrix's sword. After the fight Beatrix left the sword in Budd's trailer, taking her own with her.